Products and Services
The Best Glass Service in Town
Premium Glass and Shower Door Products and Services
FAST, FRIENDLY AND EFFICIENT;  

WINDOW REPLACEMENT IN DURHAM, SCARBOROUGH AND MORE.
Here at Ace Glass, we understand the importance of getting the décor at your home or business exactly right. Whether you're looking to update your bathroom with a new glass shower enclosure, refresh your business with a custom glass storefront, or you need a simple window replacement in Scarborough, Ace Glass is here to help. With years of experience in the business and a long list of services, our trained and knowledgeable team can make your dream project a reality. On this page, you can find more information about each of our main services.
Featured Products and Services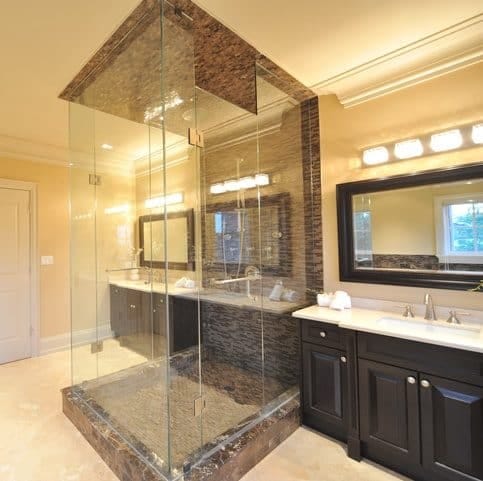 Shower Doors
Modern, timeless designs
Clear and easy to clean
Add style and personality 
Bright, open and luxurious 
Privacy glass available
Office Wall Partitions
Glass wall panels
Private and sound proof
Beautiful open feel
Contemporary design
Boost employee morale
Glass Edge Finishes
Flexible, custom designs
Built to suit your lifestyle
Matte or smooth finish
Can match other styles
Flat, beveled edge & more
Mirror Installation
Functional and beautiful
Fix and repair cracks
Antique & modern styles
Wall and wardrobe mirrors
Commercial & Residential
Additional Products and Services
Use Ace Glass for all of your custom glass and shower products.
Contact us today to learn more!
OUR EXPERTS AT YOUR SERVICE

 OSHAWA, DURHAM AND THE
SCARBOROUGH
AREA
As your source of glass products and services in the Greater Toronto Area, Ace Glass strives for excellence and to exceed our clients' expectations. Our extensive knowledge of the industry has given us the opportunity to successfully complete large and complex projects. So whether you're looking to remodel your bathroom, install storefronts at your business, or you need custom mirrors in Scarborough, we've got you covered. We provide our services to both residential and commercial clients and can handle projects of any size. To learn more about the services we offer, contact Ace Glass today. You can also find more information about our services on this page.
Contact Us Today
Are you ready to see what Ace Glass can do for your home or business? With a commitment to customer services and competitive pricing, we can handle your project regardless of size. To learn more about what we offer, visit our store or contact us to schedule an onsite no-obligation consultation with of our trained estimators.
Head Office
4451 Stevenson Rd N,
Oshawa, ON L1H 7K4
Get Your Free Glass Service Estimate Today!